SABEU develops and manufactures its own microporous filter membranes (PFOA-free) under the TRAKETCH® brand and customizes membranes for different filtration solutions. The products are used for filtration, sealing and degassing of chemicals as well as the sterile venting in life sciences and medical technology applications, e.g. solutions for mobile diagnostics, monitoring and therapy systems. Other application examples for hydrophobic and oleophobic membranes include the ventilation and pressure compensation in component groups with splash and drip water guards. Our hydrophobic membranes, on the other hand, are used for media, e.g. fuel filtration. The projects are realized in-house, from the product development, to the automation process, production, surface finishing, lamination and assembly.
Properties of TRAKETCH® Membranes
Precisely definable pore sizes
Very small manufacturing tolerances
Exact exclusion limits (cut-off)
High thermal stability
Flat and smooth surfaces
Biologically inert / non-toxic to cells (USP class VI)
Extremely low levels of extractable components
Conforming to FDA and EC food standards
Low levels of non-specific protein binding
Low affinity for staining, therefore high optical contrast
Non-hygroscopic
Sterilizable (gamma, autoclave, EtO)
Pleatable
Long term stability and media consistency in compliance with automotive manufacturer standards:
Chemical resistance
Parameter retention (media rejection, air flow)
Mechanical stability
Temperature fluctuation resistance
Stability of the component connection
The possibility to develop and manufacture molding tools and injection-molded components aside from membranes and to process them further to obtain a finished packaged product, enables us to offer our customers outstanding quality assurance, simplified sourcing processes and therefore fast processes and optimized cost structures.
Benefits of TRAKETCH® Membranes
Because of the special manufacturing process, TRAKETCH® Micro Filtration Membranes have capillary pores, which – unlike stretched or foamed membranes – have very precise diameters and a smooth surface.
TRAKETCH® Vent are characterized by a hydrophobic and oleophobic surface to achieve ideal venting. The air flow is far more consistent thanks to precisely defined pores. The tolerance width is also much smaller than the width of all other membranes.
TRAKETCH® Bio are ideal as surface filters for any application where cells and particles grow or need to be analyzed on the surface of the membrane, e.g. cell cultures in biotechnology applications as well as particles and microorganisms in environmental analysis.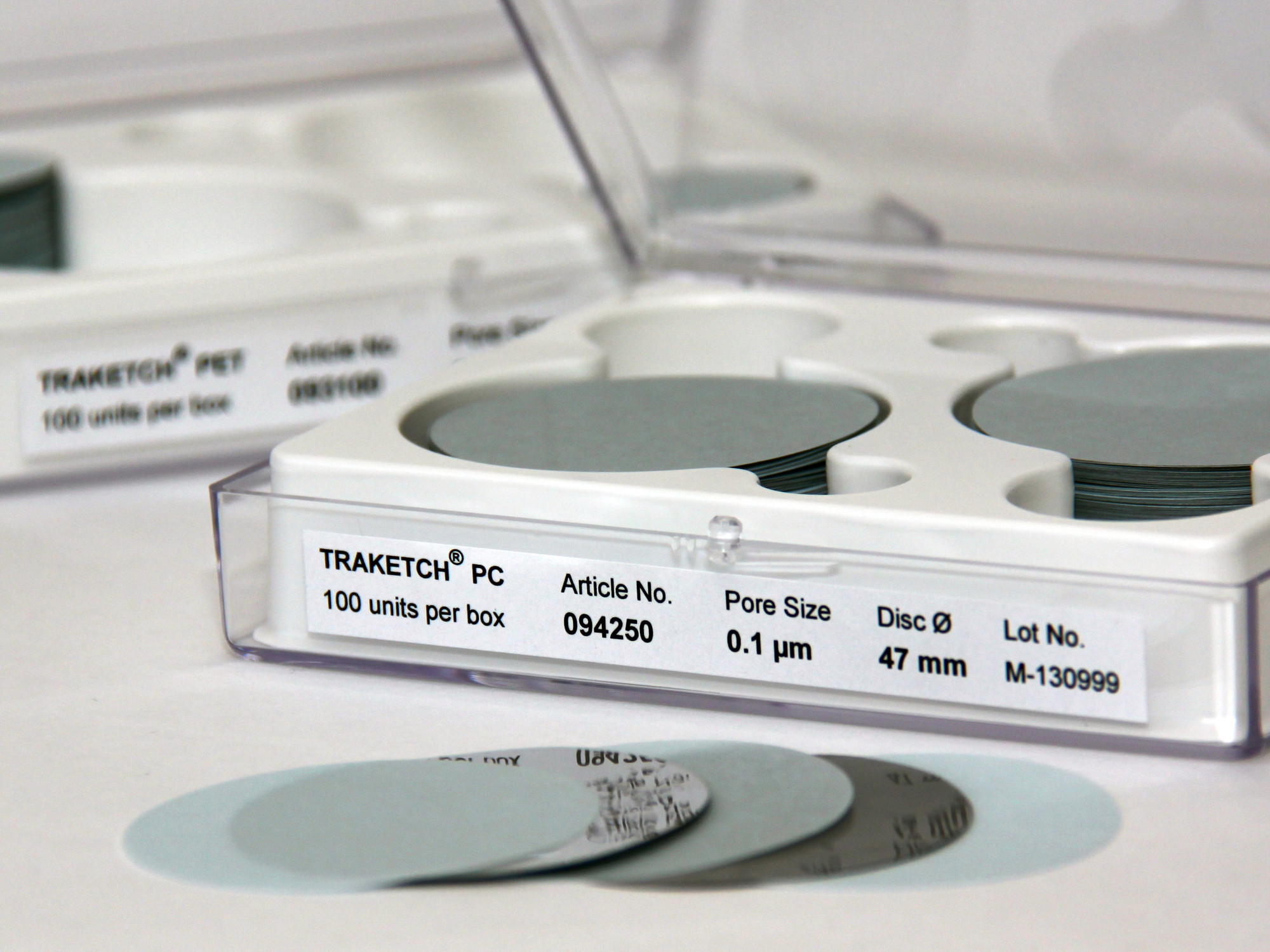 TRAKETCH® Filter Membranes by SABEU are mainly used for the filtration as well as for venting in a number of applications and markets – predominantly in the pharmaceutical, laboratory analysis, bio technology as well as the chemical and pharmaceutical packaging, the automotive and electronics industries.
The properties of ion track membranes (track etch) can be adjusted to match the specific application, and, as a result of the manufacturing process, they are always characterized by a pore structure that is uniform and within close tolerances. The pore sizes can vary from 0.08 µm to 20 µm.
With TRAKETCH® Membranes performance data such as air flow and water pressure can be adjusted in accordance with the requirements of the application within the scope of the technical specifications. The membranes can then be further processed by SABEU, e.g. welded in plastic components.
Filter membrane manufacturing
As a specialist in the development of custom manufactured track etched membranes, we are one of the world's very few in the industry with such know-how.
For our TRAKETCH® Membranes ultra-thin plastic films are bombarded with accelerated heavy ions, further processed and then chemically etched.
The diameter of the resulting pore channels can be determined with micrometer accuracy and are precisely processed in clean room manufacturing. In an in-line process, this is continuously controlled throughout the production process.




We modify the properties of untreated TRAKETCH® Membranes or other polymer membranes by means of different surface treatments, depending on the requirement.
Some examples are:
Hydrophobic and oleophobic for sterile venting
PVP
Tissue culture treated (TC)
Colored membranes: for a reduced autofluorescence
Sputter coating of gold or other metals
Additional specific modifications upon request
For stabilization and optimized handling, all membranes types (e.g. PTFE or TRAKETCH®) can be laminated with different types of non-woven fibers.
The heat lamination does not require glue when the fibers are made from PP or PET. The composite material then has a total thickness of 100 µm to 500 µm and can be processed optimally in automated cutting and welding equipment.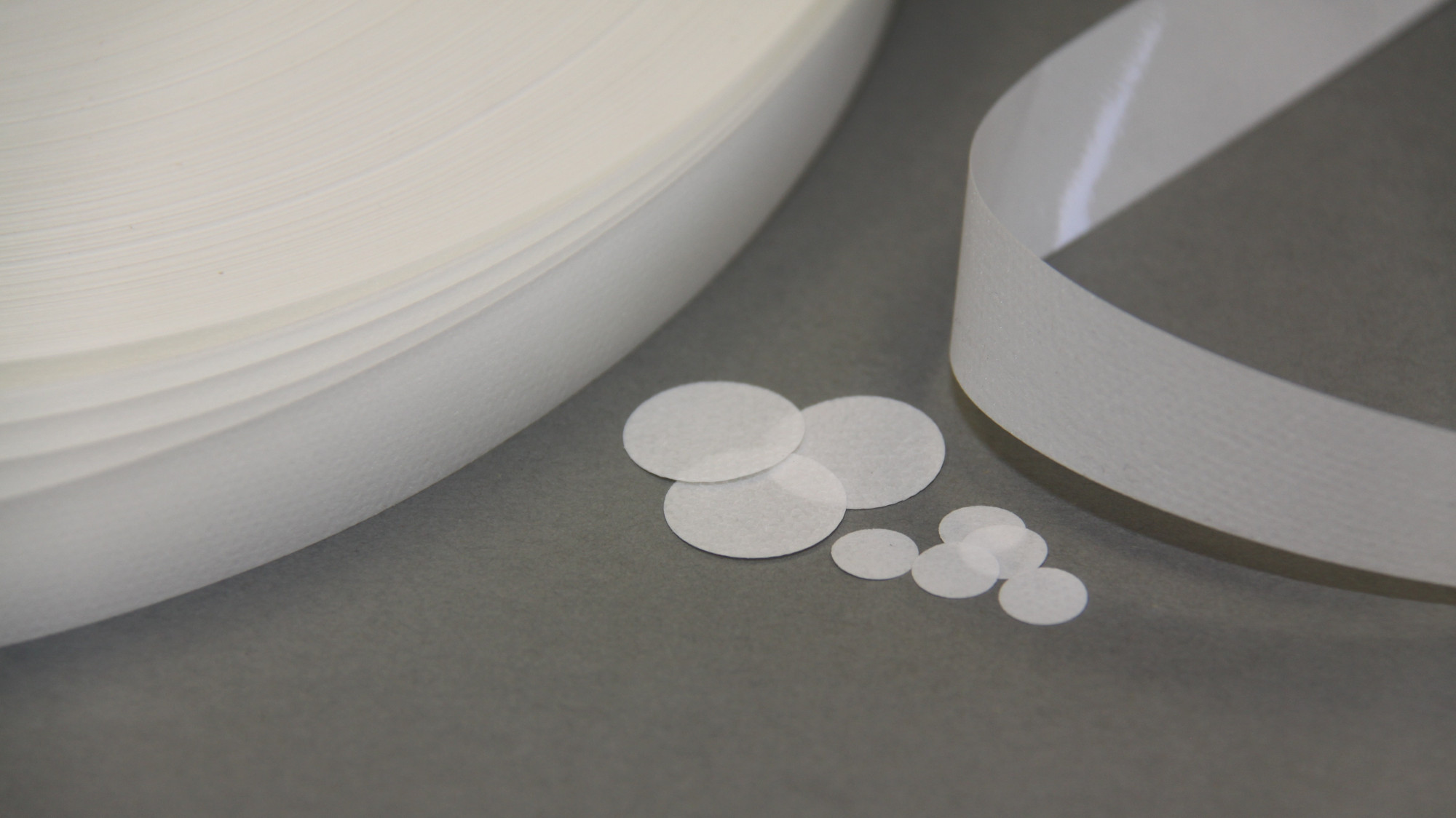 Depending on the application, all membranes (PET, PTFE and PC) can be produced as rolls, sheets, punched round discs or in other outlines and shapes. Further processing into adhesive pads supplied on liners are other options.
Roll widths from 8 mm to 300 mm
Typical sheet sizes are 8 x 10" (200 x 250 mm)
Typical disc diameters are 1/2"(13 mm), 1"(25 mm), 47 mm, 50 mm, 3 ½" (90 mm), 142 mm and 11 ½" (293 mm)
Other sizes are available upon request
For the assembly of membranes, SABEU creates tailor-made production designs based on specifications. They guarantee a high availability and a secure, economic production of the products in clean rooms (ISO class 8) and controlled areas.
We develop conceptual designs for:
Assembly lines
Rotary systems
Linear systems
Automatic testing devices
We offer different joining techniques for all membranes:
Ultrasonic welding
Thermal bonding
Edge over-molding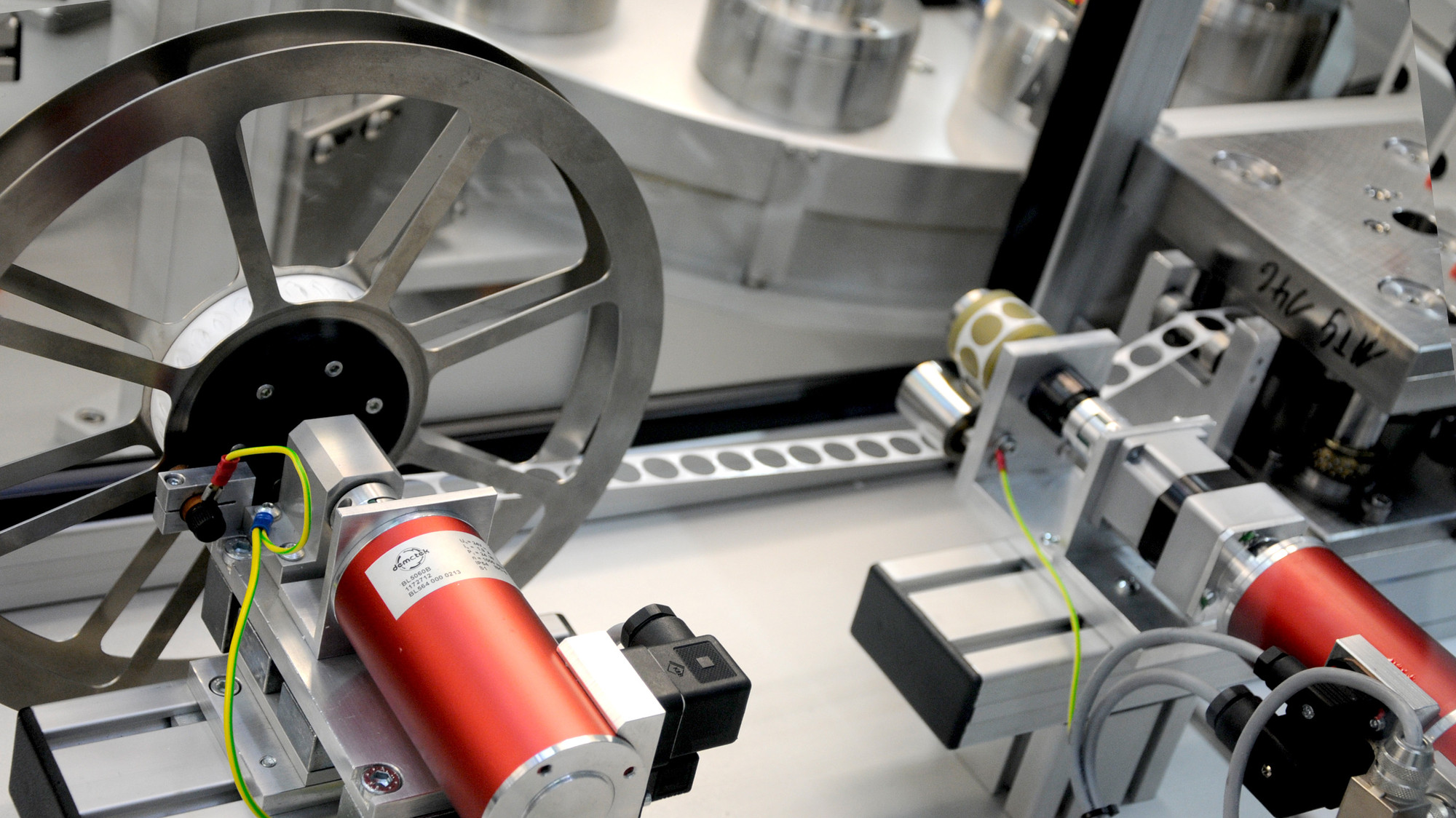 We are familiar with all common sterilization methods and will help you select the suitable method for your product. Common processes are gamma, e-beam or ETO.